I posted the below excerpt from David Foster Wallace's
Infinite Jest
and found it to be topical to so much of what this blog has tried to explain (always in vain), about why I compete in sports/life/anything.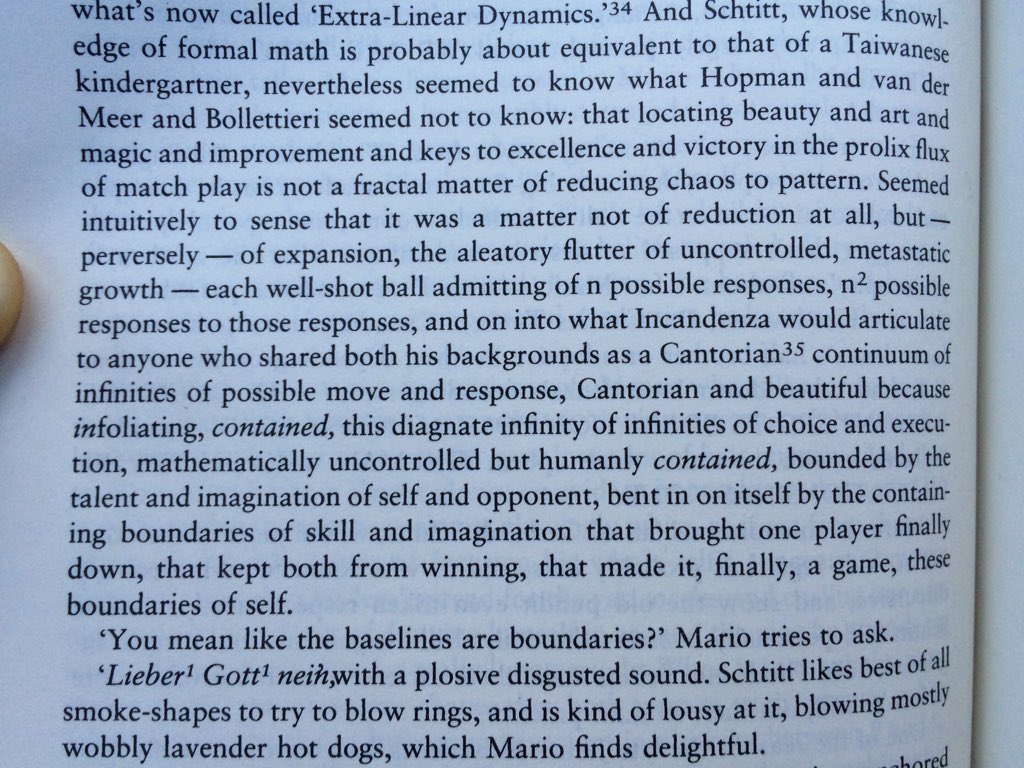 Perhaps the tennis coach Schtitt, could be seeking an idealism of sport that is impossible to hone in on without sooner falling victim to the sirens of ego, greed, over-rationalized cheating and overt abuse of one's body. There indeed is a hefty amount of quotations in sport of players speaking of the magic of applying themselves to the challenge at hand, all the while showing an addiction to ego and greed for awards and respect, surpassing the limits of their abilities by thrashing their bodies with irreversible trauma, and the all too common psychopathic actualization of the opportunity to attempt to get away with cheating.
This section of the novel also mentions that C.T. the new headmaster of the tennis academy oversaw the change in the motto that hangs over the boys' main hallway: "When a man knows his limits, there is nothing he can't achieve" which contrasts the romantic views of the former. The central point of this section's explanation of Coach Schtitt is that he finds excellence in being acutely aware of physical limits and also seeing that the way one plays the game allows for countless unseen permutations that only require the right creative decision at the right moment to not merely win, but to make for an actual beautiful game! I wondered to myself on Sunday night as Peyton Manning won his second Super Bowl, did he really savor the sloppy offense, the multiple fumbles, the lack of creativity from his opponents who played predictably as they had all season?
The point that DFW drives through Schtitt is that the human mind working within the "boundaries of self" in the moment is the main reason to play the game. Perhaps the true answer to my question above is a layered answer from the player himself, that there are indeed moments of pure love for the game as we swirl around and dive through the commercialization of heroes. When we ask why we're engaging in these contrived competitions, we're experiencing the knife edge of idealism of the competitor spirit and its limits. To put it in layman's terms: go run a long way in the mountains to get that sweet taste of working within your limits and pushing your body and mind to their limits of effort and creativity. Accept that you might not win, be popular, earn any respect, or receive any compensation - but when you get the chance to play the game, PLAY WITH EVERYTHING YOU'VE GOT!
Monday - Off
Tuesday - 8mi, Tempo up Temescal - though I was far off my PR, I was really excited to have a bit of good form in my stride and experience a fluid push from the no-dogs sign to the top. I think I was really excited by it for the sake of it hopefully translating to a better effort on raceday when I climb up Acorn (without needless nervous red-lining, but noticeable speed).
Wednesday - 10mi, Easy loop around Westridge and Sullivan. I finally got to catch up with Guillaume who was stoked after his experiences at HURT100, yet still excited in a much less technical go again at the AC course with more structured speed work and cross training (everyone always sees the light;) I also attended a cross training class at my work, which I found out fits into my XT running needs (cool!).
Thursday - 6 mi, Intervals at Temescal - 15x45sec. Not an easy workout to do on technical terrain, but definitely a good step in the right direction of building uphill power and efficiency.
Friday - Off, did a bit of Wharton Stretching and cleaning
Saturday - 15 mi, tempo up Winter Creek Climb - again another non-PR, but a fulfilling consistent hard climb. Practiced focusing on my downhill footwork on Sturdevant, which has painfully reminded me before that the price of lazy foot placement is sprained ankles and Supermans. Not falling or rolling an ankle was quite an accomplishment!
Sunday - 11 mi, recovery run with Timmy, Krista, Kate, Katie, and Bob. Good times with everyone in the group, there couldn't have been a more fit, clever, and optimistic group of runners in Malibu that day.
Photo by Kate Martini Freeman
51 mi, 9hr, 13,500 feet climbed
I finally got what felt like two good weeks out of my body, and am happy following up with an easy recovery week that is easy running, stretching, cross training, and a few strides here and there.